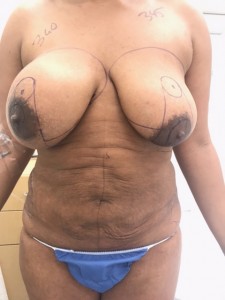 I was presented a patient whom I had first seen nine years ago for breast augmentation. She discovered her left breast implant had ruptured when she was 5 months pregnant. The implant was Allergan Saline 420 cc. Due to her pregnancy, she elected to wait 14 months to have the implant replaced. After listening to her desires we agreed on the expectation and scheduled a surgery date.
The video below shows the removal of the ruptured saline implant which was completely deflated due to what appears to be a valve issue. During the surgery, I replaced the 420 cc saline implants with high profile 320 cc saline implants and preformed a formal breast lift (formal mastopexy or wise-pattern lift). A formal lift is the technique that removes excess skin and offers the greatest amount lift.
To learn more about ruptured implants and breast revision surgery, schedule your consultation with Dr. Linder by calling our Beverly Hills office at (310) 275-4513 or by filling out our online contact form.