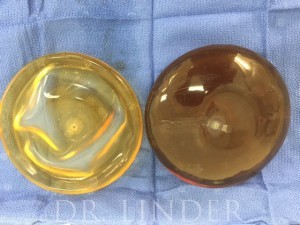 During a breast revision surgery in Beverly Hills, California at the Brighton Surgery Center, Dr. Linder comes across an implant that had been filled with Betadine by a previous surgeon over 12 years ago.
The patient scheduled a revision surgery with Dr. Linder, because she had experienced a lost of volume to her right breast due to a rupture. The implant was a McGhan low profile saline 390 cc that had lost over 80% of its volume because of the breast rupture.
The video below shows the actual removal during the procedure.
To schedule a consultation with Dr. Linder or learn more about ruptured breast implant removal call us at 310-275-4513 or contact us by email.