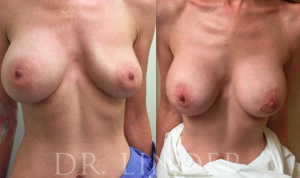 I evaluated a 47-year-old female with a loss of volume in her left breast implant. After examining her during the consultation, I determined that her left implant had ruptured. After listening to her concerns, we decided to replace both breast implants with 300 cc moderate plus saline implants. The moderate plus is an excellent mid-range implant that has a moderate width and a moderate amount of AP projection.
The postop photo to the left is six weeks out, and the patient is extremely happy with the way she looks and the symmetry of her breasts.
To schedule a consultation with Dr. Linder regarding a ruptured implant replacement call 310-275-4513 or contact us via contact us .