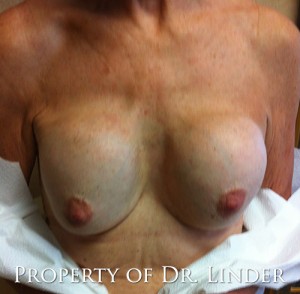 The patient presents with 50-year-old ruptured implants in her bilateral breasts that are Dow-
Corning, placed 50 years ago. The patient has increasing pain in her breast bilaterally. She is
75 years old and had the implants placed when she was 25. She had no idea that the implants
were supposed to have been replaced or removed or that the implants may have ruptured. These
Dow-Corning gel implants most likely ruptured well over 20 to 30 years ago. Her surgery is
scheduled for approximately four weeks from now where she will undergo ruptured silicone
implant removal, total capsulectomy, implant reconstruction and formal mastopexies after
obtaining a clean bill of health.
Patients with Dow-Corning implants should be instructed to have their implants removed as
soon as possible and reconstruct the implants with silicone gel. A formal mastopexy should be
performed concurrently on this patient. The patient will have silicone gel replacement with style
20 implants and a formal mastopexy after removing all the silicone material. Photographs of
her surgery will be taken and videoed in the upcoming weeks.