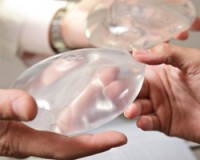 FDA Comments. The United States Food and Drug Administration has approved both silicone and saline implants for use in patients in the United States. The silicone gel-filled breast implants have a silicone outer shell and filled with silicone gel. They can be either smooth or textured. The silicone gel breast implants are approved for women age 22 years of age or older for cosmetic purposes and for breast reconstruction in women of any age. They may also be used in all revision surgeries to correct or improve the results of an original surgery. According to the FDA, approved silicone gel-filled breast implants include three companies at this time: Allergan Natrelle, which was approved in November 2006; Mentor Memory Gel approved in November 2006; and Sientra's silicone gel breast implants, approved in March 2012. The summary of their safety information includes that all breast implants are not lifetime devices and the longer a women will have the implants the greater the need to have them removed. The most frequent complications associated with the breast implants will include capsular contracture and reoperation with implant replacement or removal. Other complications can include rupture of the implants, asymmetry and visible wrinkling, scarring, pain, and infection. There is also a low incidence being found of anaplastic large cell lymphoma (ALCL); five out of two million cases. The recommendation by the FDA for screening of silicone implants is an MRI in order to detect solid rupture of silicone gel. It is recommended by the FDA to have an MRI every three years after receiving your implants and every two years after that. According to the FDA's website, there has been no apparent association between silicone gel-filled breast implants, connective tissue disorders, breast cancer or reproductive problems.
In June 2011, the FDA did issue an update on safety of silicone gel filled breast implants with the results of the studies required by the manufacturer at the time of approval as well as a review of other available scientific data. They are requiring the companies above to update their product labeling and to maintain their current safety information on silicone gel implants. Their post approval studies will include 1) core post approval studies which will assess long-term clinical performance of breast implants in women that have enrolled in studies to allow women to be followed for 10 years after implantation; 2) a large post approval study which will include 40,000 silicone gel-filled breast implant patients, following them again over 10 years; 3) device failure studies in order to characterize the causes of failure of devices removed over a 10-year period. Focus group studies to improve the format and content of patient labeling. Up-to-date, the Allergan Core Study has enrolled about 715 patients; Mentor Study, 1,008 patients following upgrades of 10-year post implant of approximately 66%.
Sientra is new to the market as of this month, March 2012. Their core cohort study includes 1,788 patients with a U.S. post approval study now at 4,700.
Saline filled breast implants are now available one again by only Allergan Pharmaceuticals and Mentor Corporation. Once again, these breast implants are not lifetime devices and should be replaced over a woman's life. The most recent complications here have included once again, scar tissue contracture, implant removal, reoperation, implant rupture and deflation. Once again, no association of saline implants with connective tissue disorders, breast cancer or reproductive problems.