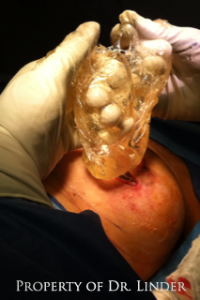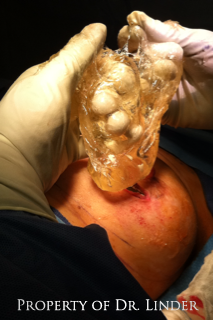 Dow Corning implants were originated in the 1940's by Dow Corning Chemical Company. The implants were found at the University of California Los Angeles in 1995 that the silicone could be expected to be a bioactive material and immunological data at the experimental level was compelling. The implants will continue to rupture and leak within 10 years of placement in 1995, yet the Commissioner stated the ruptured silicone implant would range from 5 to 51%. We do not know with any confidence where within that range the real rupture rate lies. They felt that even 5% was too high a risk to allow use of silicone in humans.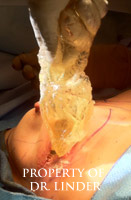 The Canadian General of Plastic Surgery found after a 12-year period of use, 40% of the 1,717 silicone Dow Corning breast implants after six years of use had a rupture rate and 95% after 12 years of use. In the Annals of Plastic Surgery in 1995, it was found that 71% of the 300 patients examined had either ruptured silicone or silicone bleed and 63% of 592 patients were found to have rupture of the Dow Corning implants. This led to the conclusion that most implants will lose their integrity of the silicone shell between 8 and 14 years, which could leave free silicone both intra and extracapsular in the breast.
In 1956, Dow Corning Chemical researchers knew that liquid silicone injected in the body will migrate to all major organs, including the spleen, liver, heart and brain. They also confirmed in 1970 silicone after injection will migrate to the bone marrow of animals and change brain weight. It also showed that silicone particulate will migraine from a human finger joint into the lymph node.
Also found by research from the ruptured Dow Corning implants was that silicone produces abnormalities in the immune system functioning. Elevated T helper cells to T suppressor cells were found. In 1992, the General Toxicology Industrial Health activities of natural killer cells were suppressed in 50% of the women with silicone implants of Dow Corning nature, putting women at a higher risk for developing other problems. Silicone produces a classifiable possible new disease within autoimmune systems. Tens of thousands of women had their implants removed after over 20 years. They sought help for their symptoms which included autoimmune dysfunction, connective tissue disorders, scleroderma and fibromyalgia; however, at this time the FDA has reviewed these symptoms as being consistent or correlated with silicone gel implants. Neither cancer or autoimmune disorders in 2012 have been shown to be associated directly with ruptured Dow Corning implants.
The settlements for the Dow Corning rupture claims resulted in over 100,000 settlements to women, permanently closed on December 15, 2010. The Dow settlement from the Dow Corning Trust Fund was processing classified claims for disease and explant benefits. The deadline to file and explant claim if you have your Dow Corning implants removed and not replaced with silicone is June 2, 2014. Deadline to file either a claim or expedited relief claim is June 3, 2019.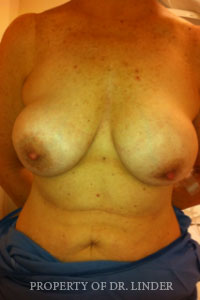 Dr. Linder has presented with multiple cases of Dow Corning ruptured silicone implants, including having patients referred directly from Dow Corning in Michigan. Upon taking these patients into the operating room, it was found clinically that these patients often present with severe Baker IV capsulation with hardened scar tissue contracture, visible distortion, pain and hardened, distorted, disfigured breasts. Removal of the silicone implant material is not as easy as it looks. Dr. Linder performs the incision usually either through the inframammary approach or periareolar.
After making the incision through the skin, electrocautery dissection is carried down through the glandular pocket. These implants are most commonly placed subglandular. At this time, the capsule is usually rock hard solid, thicker than chalk, and requires often a blade in order to cut through and remove it from the overlying tissue. Breast tissue itself is often difficult to find, as there is significant mastitis associated with silicone gel bleed directly into the surrounding breast tissue. Many of these patients have been seen to have complete disintegration of the shell of the thin Dow Corning implants which no longer exist. The calcifications and granulomas are extraordinary, and the difficulty in removing the entire shell is extraordinarily difficult, including the posterior wall.
Only Board Certified Plastic Surgeons should be performing open capsulectomies with silicone Dow Corning implant rupture material removal and reconstruction. When removing these implants permanently without replacement, it is important to use a drainage tube for 7 to 10 days with patients on oral antibiotics in order to prevent seroma formation. It is not unlikely that these patients will have a slightly elevated temperature over the next 7 to 10 days with associated slight toxemia from the silicone spreading through the bloodstream, especially for the first 72 hours. The challenge of removing these implants is equally as amazing as the intraoperative photographs. The following shows intraoperative photographs of ruptured silicone Dow Corning material being removed from the breast, the Dow Corning implants with the patch materials on the posterior wall, as well as the massive amounts of calcified granulomas from the capsule removed around the implant bag or internal silicone viscous liquid.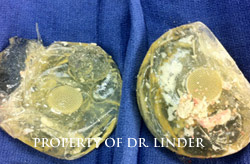 Finally, in 1992, the FDA approved adjunct study protocols for silicone gel implants for reconstruction revision patients. In 1995, major manufacturers of silicone and other implants, including Dow Corning Corp. have faced over 19,000 legal suits for defective breast implants which forced Dow Corning into filing bankruptcy. The FDA has now approved implants of silicone nature for women 22 years of age and older, as well as all women having breast reconstruction for cancer purposes. They do warn women that there are certain risks involved, including rupture, encapsulation, scar tissue contracture, and the requirement for replacement of the implants due to non-lifetime devices. The indications of a ruptured Dow Corning implant are similar to those of the other gels, including severe breast pain, chemical sensitivity, achy or swollen joints, fatigue, rashes, swollen breasts, loss of upper pole fullness, increased pain or scar tissue contracture, fever, erythema and redness.
Removal of 48 Year Old Dow Corning Silicone Implants