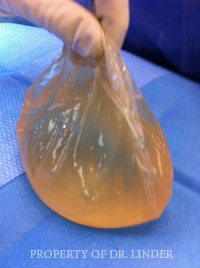 The Becker implants were created by Dr. Hilton Becker. These implants were useful as a double lumen adjustable implant. In order to combine both advantages of saline and silicone gel, double lumen adjustable implants were introduced. These implants had adjustable saline added to a silicone core. The base of the implant is a gel interior with a centrally-placed, small inner lumen to which saline can then be added. The saline chamber could be left completely empty if desired. The inner chamber was then filled preferably to a point where it became taut. This allowed increased projection fullness enhancement without increased firmness. The smaller inner lumen is the volume of the implant that be increased without altering the base diameter. The adjustable gel implants are known as Spectra implants, who introduced them originally in Europe. They are both smooth and textured. It decreased the need for different shapes and sizes, as a surgeon could select the final size more accurately by adjustable implant placement.
DOUBLE LUMEN RUPTURED BREAST IMPLANTS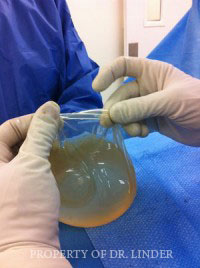 The double lumen breast implants were used in the 1970's and 1980's for breast reconstruction procedures. They were created through Mentor Corporation as a double lumen implant with an outer silicone compartment and a saline-filled inner lumen. We have encountered patients with ruptured Beck implants with double lumen. The ruptures can be identified by MRI. The double lumen devices consist of concentric balloons that contain silicone in one chamber and saline in the other. The only one still in use is the Becker implant, termed "permanent tissue expander" since it permits gradual and temporary over-inflation to create the pocket.
In today's surgical operating rooms, very few Becker devices are normally found. The MRI is still considered the standard of care in the detection of ruptured Becker implants, especially with the external silicone gel.