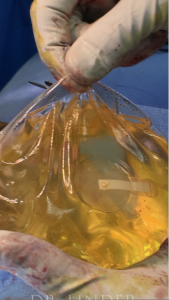 Last week I had the opportunity to remove from a patient a rarely seen Becker double lumen saline breast implants. These are very unusual implants that where placed in the patient around 30 years ago. There are very few of them still remaining in women throughout the world and it was surprise to discover during the surgery. This 52 year old patient desired to have the implants removed completely with explantation without preimplantation and drainage tube placement.
The patient underwent a breast mastopexy lift in order to reconstruct the shape of her breast after losing a significant portion of her volume.
To Schedule a consultation with Dr. Linder and learn more about breast implant removal or other breast related procedures, call our office at 310-275-4513 in Beverly Hills or fill out our online contact form today.