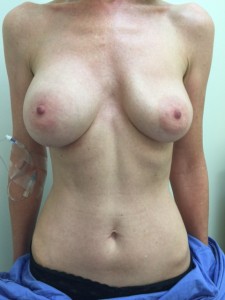 I was presented a previous patient that I had performed a primary breast augmentation 18 years ago. During the previous breast augmentation we had placed 330 cc low profile McGann saline breast implants.
She came in to my Beverly Hills office due to her left implant having a deflation in size. It was obvious that after this long of time her left implant had some type of rupture. We schedule a breast revision surgery to remove the implants. The video below show that after removing the left implant the leakage was coming from the value. These valves are designed to be one way, however after 18 years the value gave way.
For more information regarding ruptured implant removal or to schedule a consultation call us at 310-275-4513 or contact us via email.